Sign up
Donate Now
Sign up today! TREA publishes a monthly newsletter including volunteer opportunities, news and upcoming events. Please enter your email below:

Composting Workshop Series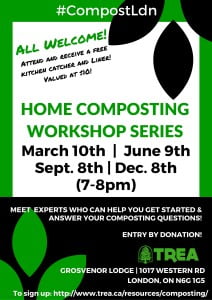 Join us June 9th at Grosvenor Lodge for a compost "fitting" that will help guide you towards a compost system that is best for you and your family. Community experts will be available on site to help you with selection and units will be available for purchase.
This workshop is suitable for all ages, skill levels and abilities. We will have experienced Community Compost Champions on site to guide you through the compost process specific to each style and provide sound knowledge to get proven results. Various compost units will be on sale as well for those who wish to get started right away.
Composting Programs
Thames Region Ecological Association offers a "How to Compost" flyer, support with various composting systems and workshops to get your compost system up and running properly.
If you are interested in volunteering a few hours to help TREA promote composting in the community, e-mail volunteer@trea.ca.
What is Composting?
Composting involves the biological decomposition or breakdown of organic material into a dark, soil-like, nutrient dense material. Any organic material in nature will decompose by itself. Composting is simply a way of letting this process take place in various systems in the backyard or in your home.