Sign up
Donate Now
Sign up today! TREA publishes a monthly newsletter including volunteer opportunities, news and upcoming events. Please enter your email below:
Learn how to reduce waste through individual habits and in large events.

Learn the best practices and practical strategies for active transportation.

Gain practical knowledge & network to reduce reliance on fossil fuels.
Welcome to TREA - Thames Region Ecological Association
TREA's main goal is to educate its members and community to protect the environment, stay informed and take personal action. We also have an entrepreneurial streak given that TREA encourages citizen participation and innovative projects from and for the community.
TREA 12 Days of Christmas Facebook Silent Auction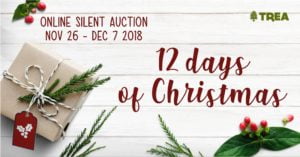 Join us for our 2nd Annual 12 Days of Christmas Facebook Auction in support of TREA*, a local charity (1986).
This is a great opportunity to acquire fabulous Xmas gifts without the hassle of waiting in line, or buy yourself something special just because you too deserve a special treat at this time of year.
Last year and this year we have tried to offer practical items or experiences but we can always improve. Thank for your support.
How does our auction work?
* Each day for 12 days one or more items will be posted on the Facebook event page at 9:00 a.m. with a reserved (minimum) bid amount.
The dates run from Nov 26 (Monday) through to Dec 6 (Friday).
* Simply place your bid in the comments section and check it before the day ends to see where it stands with other bids
* At 9:00 p.m. daily, we stop bids and winners are announced.
Note: Some items may be listed for more than one day so check our notes if the item you are bidding on is one of those items.
Winners will be contacted. If a winner does not respond within 24 hours of being notified, the item will go to the next highest bidder. Payments options are Etransfer or Paypal.
*TREA has established numerous programs and partnerships on waste and fossil fuel reduction, active transportation and keeping it local. TREA's overall goal is to educate members and community to protect the environment, stay informed and take personal action.
Ask TREA to help with your outdoor festival composting and waste reduction strategies.