Sign up
Donate Now
Sign up today! TREA publishes a monthly newsletter including volunteer opportunities, news and upcoming events. Please enter your email below:
Greening of the Festivals
TREA's Greening of the Festivals
In 2007, a coalition of event organizers from various Victoria Park festivals such as Sunfest, Home County Folk Festival and RibFest championed a waste reduction strategy spearheaded by Waste Free World, a working group of TREA, Home County Folk Festival and the City. The goal was to reduce the environmental impact that festivals generate in waste through one time use plastics and food scraps. The program grew to include all events held in the park. TREA originally supplied all the volunteers for this program, an ambitious task. Over time, the festivals recruited their own volunteers and TREA supported where needed their waste management component to keep materials properly sorted, and festival volunteer training.
In 2014, given the challenges of the festival event organizers to keep volunteers sorting materials efficiently, the City made composting voluntary as contamination was taking place. Since then, there has been a need to regrow the composting part of the program and TREA has worked since with some festivals at Victoria Park and some events in smaller parks as well.
Festival attendees are encouraged to bring their own dishes and refillable water containers, make use of the reusable dish stations at events where applicable, and utilize the numerous Ecostations, staffed by volunteers, to drop off their materials for composting and recycling.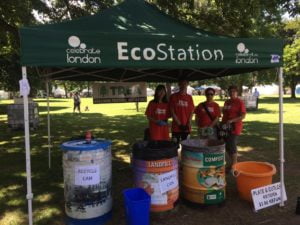 EcoStation Volunteers – Ecostations require a large number of volunteer hours. Citizens are encouraged to help by signing up as a volunteer. Shifts are approximately 3-4 hours and Ecostations are set up based on the number of vendors on site. Please contact the event organizer directly to help. If you have general questions, contact TREA at info@trea.ca. This is a great opportunity for high school students to earn volunteer hours throughout the summer.